Adding our table top epoxy resin pigments creates a whole new deep effect to your river table or other epoxy project. Our pearls, glows, thermochromics, and candy concentrates all mix well into table top epoxy!
Whether you are refinishing a bar-top, wooden table, or making coasters for your home, our pearls make the perfect table top epoxy pigments. They will add beautiful effects.  Using our additives in your projects enables you to create unique effects from just a few simple table top epoxy pigments. We have been working closely with some of the best epoxy manufacturers out there to show everyone how much fun it can be to create these amazing effects with our pearls.
We are very excited to see the effects achieved by our table top epoxy pigments into resin   Make really cool effects by using a heat gun or blow dryer, as we did on the pictures on this page.  Ghost Pearls, Candy Pearls, Chameleon Pearls, Glow in the Dark Pearls, Metal Flakes, and Candy Concentrates, with ordinary resin. Presto! Epoxy Resin Pearls!
It is really fun to learn a new skill.  Table top epoxy pigments in resin and molds are easy to figure out so you can do almost anything with them. Being able to re-create the natural beauty of an Agate or Geode, or even a river table or a lava flow table  in epoxy  are super cool ways to get creative and express yourself with a really fun new way of coating.
Note: With some of our pigments (such as the Candy Concentrate dyes), we recommend that they be mixed into Part B (the hardener) part of the epoxy. That will allow them to dissolve properly.
The possibilities are endless with our powder pigments, A.K.A. Epoxy Resin Pearls! They also work in Silicone,  Fiberglass, Gelcoat, Nail Polish, and every other clear medium.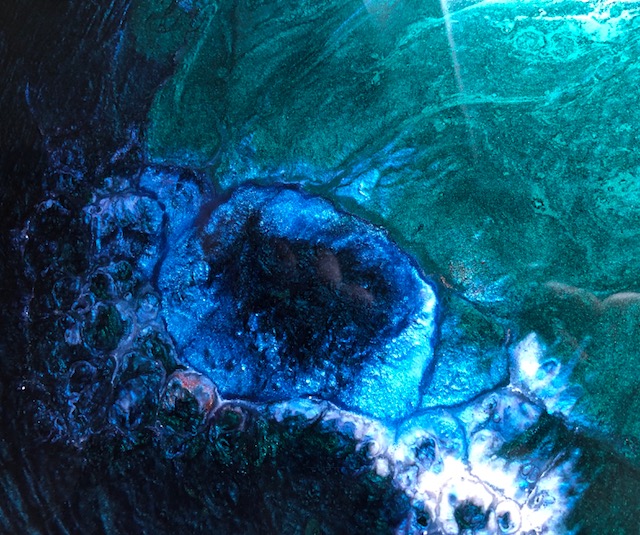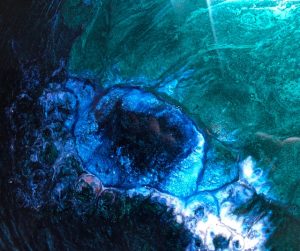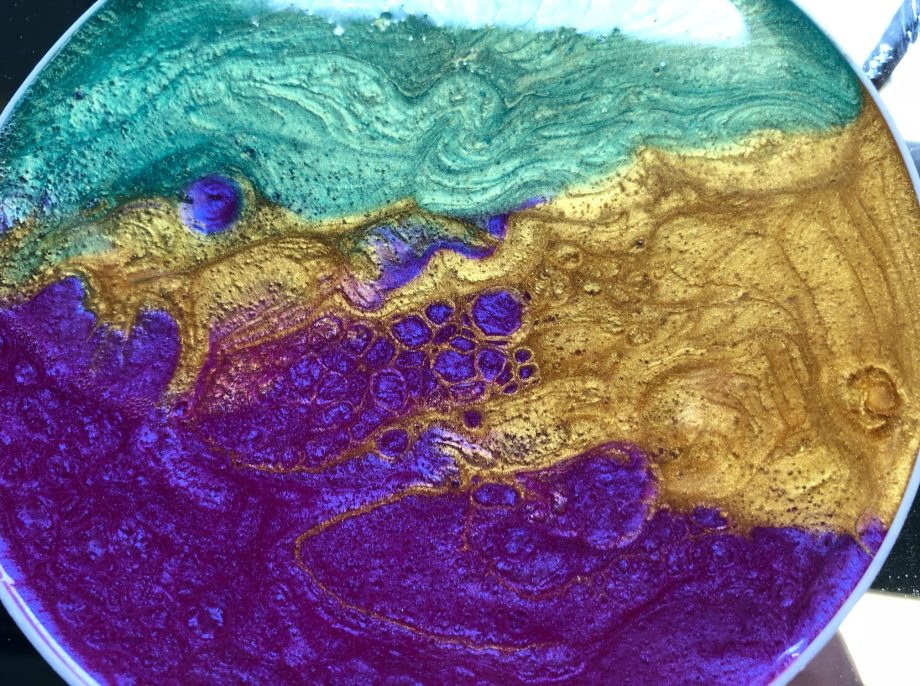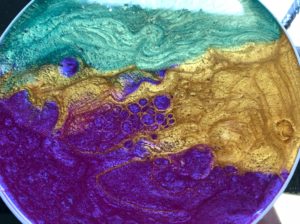 All of the above images are epoxy resin projects that we made in the course of an hour.