The Best Quality at The Lowest Prices.
Aqua Blue Purple Chameleon Paint Metal Flake .004″ micro
One 4oz, Jar or choose 1 lb. of Aqua Blue to Purple Chameleon Flakes. Change Color with light and direction.
Add to Wishlist
One Jar of our Aqua Blue Purple Chameleon paint metal flake treats close to a gallon of paint! For best effects, spray over black, but works with any color!
This is one of our most popular flakes in  the chameleon paint spectrum. It looks much better in person, but custom paint often does. Our Aqua Blue Purple Chameleon paint Metal Flake has several color changing aspects, but photography tends to capture only a few of them. There are some paint companies that refer to these flakes as micro flakes. Just add the desired amount to your base coat clear paint. If your paint gun has a built in strainer, you might want to remove it. This custom chameleon metal flake is truly easy to mix and spray to create your own custom paint job or project, whether it be car, motorcycle, watercraft, or in the home. It will literally mix with any clear finish, so it is good for fiberglass as well.
Try our Aqua Blue to Purple chameleon paint metal flakes for a truly expensive looking custom paint job. Don't forget to watch the above video for a great idea of the color change of this incredible chameleon metal flake. Visit our FAQ page for  more answers to your questions, or contact us, we are always ready to answer questions.
Use in many applications
Use them in paint, use them in powder coatings, use them in fiberglass, or epoxy. Use them in Liquid Wraps or Plasti Dip.  Not only are all of our Metal flakes completely compatible with plasti dip, we were the people who introduced Plasti Dip Pearls to the world.
Keep in mind that this is a flake or glitter.  It is not a pigment and will not make a solid color change paint.  It is glitter that gives a three color sparkle at different angles.
We recommend 1 heaping tablespoon of flake per sprayable quart of clear paint/binder .
Shop with us…the leader in paint and Pearl Pigments Since 2005. See our old site.
Aqua Blue Purple Chameleon Paint Metal Flake .004″ micro
Aqua Blue Purple chameleon paint metal flake gives you an incredible color shift with different lighting and angles showing flashes of different colors.
Paint With Pearl
Manufactured by: Paint With Pearl
Model: aquablue-purple-CHAM-FLAKE
Product ID: aquablue-purple-CHAM-FLAKE
$19.99 New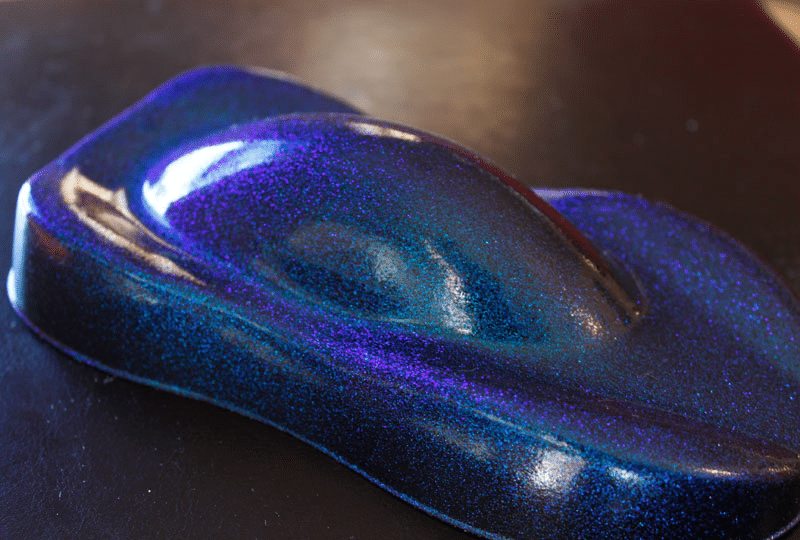 Author Rating
Brand Name
Product Name
Aqua Blue Purple Chameleon Paint Metal Flake
| | |
| --- | --- |
| Bulk Options | 4 oz. Jar, 1 lb. Bag (6 jar value) |
Related Products
Sale
4 Fluid Oz Bottle of Glacier Blue Metallic Flake .004″ for use in Paint, Airbrush, and Powder Coatings (that's four-thousandths of an inch). The great thing about these little metal flakes is that they still have a big reflection – without all the extra work of those bass boat flakes. The problem is, with larger flakes you need to do a lot of surface prep after spraying them. With our tiny flakes, you can still get a metal flake spray job and great sparkle without all of the flake sanding and prep work before applying your final clear coats. Small enough to spray through an airbrush and HVLP fine nozzle, with the benefits of the old school flakes sprayed by the legends of custom paint and powder coating.  These Glacier Blue Metallic Flakes are truly classic in a custom paint job.